Ingredients
skinless chicken breasts 500g, cut into chunks
ground turmeric 1 tsp
ginger a thumb-sized piece, peeled and grated
garlic 2 cloves, crushed
lemon 1/2, juiced
butter 35g
onion 1 large, thinly sliced
makhani or other curry paste 3 tbsp
tomato puree 1 tbsp
ground almonds 2 tbsp
full-fat natural yogurt 175ml
chicken stock 150ml
coriander a handful of leaves
basmati rice to serve
Method
STEP 1

Toss the chicken with the turmeric, ginger, garlic, lemon juice and ½ tsp salt. Heat the butter in a large wide pan then cook the onion for 10 minutes until softened and starting to turn golden. Add the curry paste and tomato purée and cook for 3 minutes. Add the chicken and cook until opaque.

STEP 2

Mix the almonds and yogurt in a bowl then stir into the pan and cook for 2-3 minutes. Add the stock and simmer gently for 10 minutes. Scatter over the coriander and serve with basmati rice.
Click here for best winter recipes, reviews and more....
Creamy Pesto Shrimp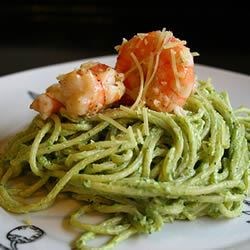 Bring a large pot of lightly salted water to a boil. Add linguine pasta, and cook for 8 to 10 minutes, or until al dente; drain.
In a large skillet, melt the butter over medium heat. Stir in cream, and season with pepper. Cook 6 to 8 minutes, stirring constantly.
Stir Parmesan cheese into cream sauce, stirring until thoroughly mixed. Blend in the pesto, and cook for 3 to 5 minutes, until thickened.
Stir in the shrimp, and cook until they turn pink, about 5 minutes. Serve over the hot linguine
Whats for Pudding? Molten Chocolate Lava Cakes
Top these gooey-center, intense chocolate desserts with powdered sugar.
Ingredients
2 tablespoons butter
8 ounces bittersweet chocolate, coarsely chopped
3/4 cup butter
3 eggs
3 egg yolks
1/3 cup granulated sugar
1 teaspoon vanilla
1 tablespoon all-purpose flour
Powdered sugar
DIRECTIONS
Using the 2 tablespoons butter, grease six 8- to 10-ounce ramekins, souffle dishes or custard cups. Place ramekins in a 15x10x1-inch baking pan; set aside.
In a heavy small saucepan, combine chocolate and the 3/4 cup butter. Cook and stir over low heat until chocolate melts. Remove pan from heat; set aside.
In a large mixing bowl, beat eggs, egg yolks, granulated sugar and vanilla with an electric mixer on high speed for 8 to 10 minutes or until thick and lemon colored. Fold one-third of the chocolate mixture into egg mixture. Fold remaining chocolate mixture and flour into egg mixture. Spoon about 2/3 cup batter into each prepared ramekin, dividing evenly.
Bake in a 425 degree F oven about 12 minutes or until cake edges feel firm. Cool in ramekins on a wire rack for 2 to 3 minutes. Using a knife, loosen cake from sides of ramekins. Invert onto dessert plates. Sift with powdered sugar. Garnish with fresh raspberries and mint leaves if desired. Serve immediately. Makes 6 servings.
click 
here
 for other interesting article, recipes, reviews and more....
Are you struggling to find healthy school lunch ideas? Having a 15 year old and 13 year old I have spent the past 10 years wracking my brain what to give them for school lunches, the options are limited to sandwiches, fruit, snacks, crisps etc. As they have grown older they eat far more resulting in school lunches becoming an expensive meal of the day. Its easy to give them tuck money and hope like hell they buy something substantial however, it usually consists of junk food which plays havoc with their sugar levels the rest of the day.
With childhood obesity and diabetes on the rise, it's clear our kids need healthier eating habits. Establishing these behaviors early in life can lead to healthier eating as an adult. And what better place to start learning good habits than in school?
Experts find that many school lunches are too high in cholesterol and saturated fat, and too low in dietary fiber, whole grains and vegetables. However, the days of soggy tater tots and rubbery hot dogs may be numbered. Schools nationwide are working to make more nutritional lunches available to all students. From vegetarian lunch options to using local produce, school lunches are transforming.
I found some great nutritional school lunch ideas I decided were worth sharing, these easy lunch recipes will make your life easier:
CHICKEN SALAD ROLLS
Combine diced smoked chicken, toasted almonds, halved seedless red grapes, thinly sliced celery and mayonnaise. Transfer to an airtight container; pack with a whole wheat hot dog bun for your talented kid to assemble.
Corn and Zucchini Fritters
Prepare a batch of whole wheat pancake batter, using about 1/2 the liquid. Stir in a cup thawed frozen corn, one small grated zucchini and a handful of Parmesan, and a sliced scallion. The zucchini will add moisture; add more liquid if the batter is too stiff. Cook until golden, 2 to 3 minutes per side. Pack with Greek yogurt for dipping.
Chips and Dips
Combine chopped fresh tomatoes, lime juice, finely chopped white onion and chopped fresh cilantro. Pack flaxseed tortilla chips with small containers of the salsa, avocados mashed with lemon juice, and Greek yogurt.
Mini-Bagel Breakfast Sandwich
Spread the bottom of a split, toasted mini-bagel with cream cheese, Canadian bacon or pancetta, a scrambled egg and a tomato slice. Spread more cream cheese on the bagel's top slice before setting into place.
Click 
here
 for other articles, reviews, recipes and more....
Reese's easiest fudge recipe -smooth, chocolate fudge filled with reeses peanut butter cups. A chocolate lovers dream! Perfect Christmas gift, make a whole batch and put them into jars for grandma and granddad as a real treat.
Seriously… if you love fudge and reeses you are going to LOVE these and must make them asap! This is possibly one of the easiest recipes ever!
One of my friends brought reeses fudge to a church event and I knew I had to recreate the deliciousness. I love the "simple" fudge recipe that I found on the back of the sweetened condensed milk can years ago and just added reeses to it. These were devoured… and so so good.
Reese's Fudge
Easy no-bake Reese's peanut butter cup fudge
yield: 16-24 BARS
prep time: 10 MINUTES
cook time: 0 MINUTES
total time: 10 MINUTES
Ingredients:
11 oz. bag mini Reese's Peanut Butter Cups (about 30 pieces)
4 regular size Reese's Peanut Butter Cups
14 oz. can sweetened condensed milk
3 cups chocolate chips
Directions:
Line an 8x8 inch baking pan with aluminum foil and lightly spray with cooking spray.
Chop the mini Reese's into quarters and the regular size Reese's into eights. Reserve the regular size Reese's for the topping and then place the chopped mini cups in the bottom of the pan.
In a large glass bowl, stir the chocolate chips and sweetened condensed milk together. Cook in the microwave on 50% power in 30 second intervals, stirring after each time.
Once chocolate is melted, spread evenly over the peanut butter cups.
Sprinkle reserved chopped Reese's on top and gently press into chocolate.
Refrigerate until set and then cut into squares.