Mal Weeraratne – author of Emotional Detox through Bodywork- talks about the true meaning of Tantra.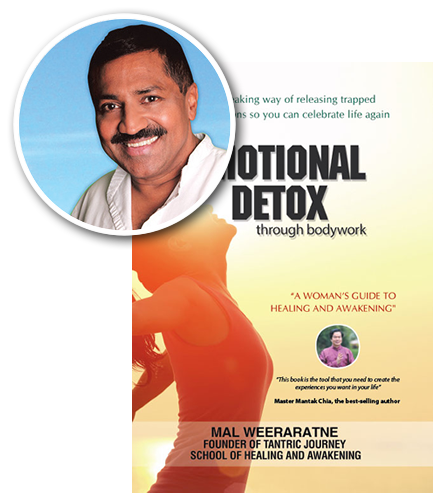 'No examination of the art of Tantra would be complete without first examining its history', writes Mal Weeraratne in his fascinating book 'Emotional Detox – through Bodywork.  In a chapter entitled, ' Ancient Practice, Modern Uses', Mal Weeraratne goes on to explain that 'Tantra started over 5,000 years ago in India.  From India it went to china and they call it Tao'.
Mal explains that Tantra was originally practised as a path to enlightenment through sensual energy called Prana. This is very powerful and when circulated around the body leads to a positive, energised state; indeed it invigorates the entire body. Harnessing sexual energy is a very powerful technique that is an essential tantric technique; and as Mal describes, 'familiarity with Tantra can help a person enjoy life to the fullest'; this is because harnessing sexual energy rejuvenates and improves physiological, emotional, psychological and spiritual health.
Tantric Journey- School of Healing and Awakening was founded by Mal Weeraratne in London as a result of Mal's development of a unique and pioneering treatment method that combines, Tantra, Tao bodywork along with specialised trauma release methods that are capable of releasing trauma at cellular level in the body. Mal Weeraratne is considered a pioneer in the field of emotional detox through bodywork and has treated thousands of clients from around the world with his unique treatment method:  Tantric Journey.
Mal Weeraratne works as both a therapist and teacher from his Tantric Temple in Hammersmith, London, but also teaches at Tao Gardens in Thailand. During his training sessions Mal has witnessed many positive transformations, but for those who cannot attend one of his courses his book is an excellent self-help guide, in which Mal reveals how all women are capable of experiencing emotional freedom and ecstatic bliss, the book covers everything from information on understanding how the female body may be activated to deepen ecstatic states; yoni massage, detox diet; strengthening the pelvic floor, negative emotions, healthy orgasm, healthy male ejaculation and so much more.
Emotional Detox through bodywork is packed with practical advice and tips and readers will learn emotional trauma can block pleasure and cause disease; the difference between soft penetration and deep sustained penetration, including how to avoid premature male ejaculation; the secrets and history of female ejaculation; techniques for awakening and yoni massage; and will come to understand how emotional trauma can block pleasure and cause disease. The book is an excellent starting point for those who wish to improve their health and well-being or wish to understand how negative emotions are stored within the body.
For those who wish to seek professional help to release negative emotions and experience full release /emotional freedom from stagnant negative emotions then a session with Mal or one of his fully qualified Tantric Journey therapists is recommended. Mal Weeraratne has over twenty years experience in his field and offers one-to-one therapy sessions, 7 days per week in London, via appointment.
Mal Weeraratne is the founder of Tantric Journey – school of healing and awakening and the author of 'Emotional Detox – through bodywork'. He has had a long-standing commitment to educating people on subject of his pioneering techniques in emotional detox and unique insights into the field of human sexuality.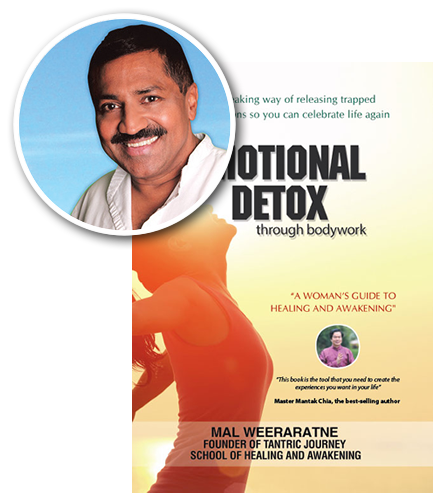 Having studied at the International Centre for Release in California under Dr Jack Painter, he then went on to study at Source School of Tantra in Hawaii under the training of Charles and Carolin Muir, gaining him the accolade of becoming the first advanced, certified Tantra educator in the UK from this prestigious school. Whilst his qualifications in this field are impressive, it is his continuous dedication to understanding this field and developing pioneering techniques to aid full emotional detox through tantric and tao bodywork that are the real mark of his success and have seen him treating thousands of women from around the globe.
At his school: Tantric Journey, based in London, Mal Weeraratne offers a comprehensive range of teaching courses and events for those seeking to understand more about Tantra, those seeking to become Tantra Teachers, therapists or those simply wishing to add skills to their existing ones in healing.
In addition to teaching at his London Tantra Temple, Mal Weeraratne also offers treatments and training at the esteemed Tao Gardens in London. His last course in December 2016 attracted over seventy students and already his next course is seeing a flurry of enquiries and enrolments'. In the tranquil setting ofTao Gardens Mal offers his students the opportunity to explore the deep healing powers of Tantric and Tao bodywork through the techniques of Tantric Journey. As with all of his courses students are invited to learn the theory and practical skills and to experience first-hand the benefits of emotional detox through bodywork.
Mal Weeraratne courses are run throughout the year and he also offers taster evenings monthly for those who want to learn more about his work before committing to a full training course, more information can be found on his website www.tantricjourney.com Typically Mal's students come from a variety of walks of life, ages and include men, women and couples.
Before embarking on a course of training or retreat, you could always nestle down with a copy of Mal's book, 'Emotional Detox, through Bodywork' which is a self-help guide that gives practical tips for self-healing and a greater understanding of his work.
My Truth - Mal Weeraratne 
Bodywork is a therapy that can be misunderstood and treatments can go wrong due to a lack of understanding of treatment processes and through trauma transference and projections.
When releasing stagnant negative emotions through bodywork the client and therapist are both placed in a vulnerable position.
Through bodywork the client effectively heals themselves through the presence and direction of an experienced therapist. The therapist is a catalyst and guide for the release of trauma, working on trigger points to aid the accessing and eventual release of negative emotions. Before the emotions can be released they must be accessed and fully felt in the clients body, this may lead to her feeling sad, angry, despairing and vulnerable etc. This is all part of the process of emotional detox through bodywork, but because the client is experiencing 'emotional pain' it is possible for them to feel abused due to their emotional turmoil and vulnerability or to transfer the blame for their negative feelings on to the therapist; in short a therapist's intentions can be misconstrued and they can also become scapegoat for negative emotional experiences that occur during treatment.
Performing bodywork on someone who is suffering emotional trauma and emotionally detoxing can be likened to cracking an eggshell. To someone going through this process the act of having their body touched in the course of treatment can be incredibly painful and damaging as the outer body is not strong enough to hold onto the emotions in response to deep bodywork. It is at this stage that trauma transference can occur and a client can come to blame the therapist for the terrible emotional upset they feel and sometimes become confused about the intentions of the therapist, especially if the client has experienced abuse as the negative emotions connected with this will surface.
It is essential that therapists are fully aware of the emotions that they may experience after a treatment and that the therapist is fully supportive during and after a therapy session, so that a client can complete her emotion process cycle in a safe and supportive environment without the need to explain or quantify her feelings.
About Mal
Mal Weeraratne is the founder of Tantric Journey. If you wanted to give Mal a job title than it would be fair to describe him as a Tantra therapist and instructor, but what he actually does is perform remarkable emotional transformation work, entitled emotional detox through bodywork.
Being a specialist in the field of female sexual dysfunction, he works as a trained tantric therapist, helping women to overcome their physical and emotional difficulties through the medium of deeply healing bodywork which facilitates emotional release.
Through his Tantric Journey work Mal Weeraratne has helped to release thousands of women from their negative emotional blockages and open a new gateway of orgasmic potential and emotional liberation.
He has treated clients from around the globe, aiding them to overcome conditions including sexual dysfunction, insomnia, inability to achieve orgasm, low self esteem, stresses, body aches and vagainism.  His work has also improved the personal relationships of many of his clients; aiding intimacy with their partners and even aiding them in successfully finding partners whilst increasing their ablity to experience ecstatic bliss in all areas of their life.
Mal's understanding and experience in the field of Tantra is highly commendable. He has studied at various accredited institutions around the world and was the first certified Tantra Educator in theUK  from Source School of Tantra in theUSA.  To date he has treated well over three thousand clients and his treatment method of emotional release through bodywork (termed Tantric Journey work) is truly groundbreaking and makes him a pioneer in the field of bodywork and female sexuality.